Who Are TML Solicitors
Dynamic Solicitors with Innovative Solutions
TML Solicitors are a young dynamic law firm that provides innovative solutions to our client's legal problems. We provide advice to clients on a national level. Having set up in 2013, our firm has seen growth in the services we provide and the level of expertise in our business. Our main base is Leicester however we can cater for Clients not only regionally but also nationally.
We offer advice and representation for Personal, Business, and Courts & Justice matters. We also act as agents and provide advocacy assistance when required.
Experienced and Expert Legal Advice
At TML Solicitors, our Solicitors have a vast wealth of experience in the areas of law they deal with. Our Solicitors have the skills and knowledge to guide you through your case or transaction in a clear manner. We know that our Clients require clear advice and workable solutions in any of their legal matters and we can ensure that each client receives a high standard of service.
A National Company with Friendly Professional Staff
TML Solicitors have built up a network of contacts with professionals and businesses on a national scale. This has provided us with the ability to provide our Clients with real-life solutions. We are a team of friendly and personable members, whilst maintaining a professional attitude to resolving your matters.
TML Solicitors and several of the members of our team here have been nominated for a variety of awards from organisations including the British Conveyancing Awards, Leicester Law Society, East Midlands Women's Awards and more. Our Director, Dav has recently been nominated for Businessman of The Year in the Niche Business Awards 2022 and for Scale-Up Entrepreneur of the Year in the Real Entrepreneurs Club 2022.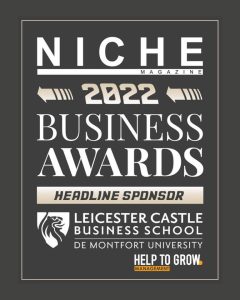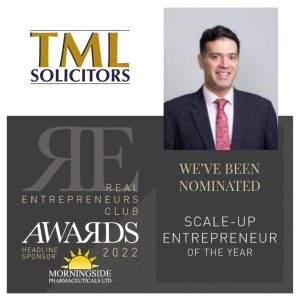 TML Solicitors: Our Ethos
At TML Solicitors, we are driven to provide excellent services for our clients, and we have an ethos that we stand by in order to achieve a high standard of service. The firm believes that clients should be given value for the advice that is given to them. We pride ourselves that the advice given to our clients demonstrates the experience and skill of the solicitors who work here. We believe that our Clients should be a priority and we pride ourselves on understanding our clients' needs by listening to them and providing them with sound and clear advice.
Our firm and our Solicitors have achieved various accreditations. We are Lexcel accredited in providing excellent standards in legal practice. TML Solicitors have the following accreditations:
We are regulated by the Solicitors Regulation Authority and are members of the Law Society.
Our Clients
TML Solicitors caters to all different clients whether they are first-time buyers, well-established businesses, to those who are using a solicitor for the first time. We advise and represent our clients in the same professional manner and offer a unique service to them. We are accessible to our Clients in various ways and can offer out-of-hours services depending on their needs.
What TML Solicitors Offer
TML Solicitors offer competitive rates and offer various payment schemes to ensure that our clients are able to meet their legal costs. At TML Solicitors there are no hidden costs as clients are kept up to date with the progress of their case and the costs involved. For more information or details of our services and quotes please contact us on 0116 247 0022 or email us at info@tml-solicitors.co.uk